family
WaterAid Creates Giant Sand Portrait On Whitby Beach To Show How Climate Change Threatens Water Access For World's Poorest
Nadiya Hussain supports call for water for all to protect families from impacts of climate change
Whitby Beach became an artist's canvas this week when international charity WaterAid created a striking portrait in the sand showing a child carrying water on cracked ground next to the rising tide, to highlight the impact of climate change on people's access to water.
Extreme weather such as prolonged droughts dry up water sources like springs and wells, while rising sea levels and flooding contaminate ill-protected water supplies, with potentially devastating consequences.
It is making life harder for the 785 million people already living without clean water close to home and currently struggling to meet their basic needs. By 2040, the situation is predicted to be even worse with climate change making water perilously scarce for 600 million children – that's 1 in 4, and an increase of 20 per cent since 2010.*
Having a reliable source of water means families can protect themselves from the impacts of climate change.
WaterAid's 60-metre wide artwork was supported by players of People's Postcode Lottery, ahead of World Water Day on 22 March, as a stark reminder that climate change is happening and those who have done least to cause it are feeling its effects first and most severely.
It took artists from Sand in Your Eye four hours to create the portrait of 12-year-old Ansha from Frat in Ethiopia, who spends hours each day collecting dirty water from a river. After only an hour on Whitby Beach, Ansha's image was washed away by the rising tide – highlighting how excess rainfall and rising sea levels can lead to flooding, contaminating water and endangering lives.
WaterAid is helping children like Ansha and her community to get a reliable source of water that keeps pumping through floods and droughts, so they can become more resilient to the impacts of climate change. With clean water, people can stay healthy, earn a living and go to school, and when disaster strikes, they have the resources to respond and recover.
Players of People's Postcode Lottery have supported WaterAid since 2013, helping bring clean water, decent toilets and good hygiene to millions across the world. In Yorkshire alone, players have raised just over £7.4m for good causes across Britain and internationally. In 2021, their support will help communities in countries such as Ethiopia and Bangladesh who are already facing the impacts of climate change on their water supplies.
Laura Chow, Head of Charities, People's Postcode Lottery, said:
"Climate change may not feel like an immediate threat, but it's already having a devastating impact around the world. This striking portrait of Ansha is a poignant reminder that it's the world's poorest people who'll suffer the worst consequences.
"Players of People's Postcode Lottery are supporting this event as part of our commitment throughout 2021 to raise awareness of the effects of climate change and to fund WaterAid's climate-resilient water, sanitation and hygiene work in communities across the world."
Author, TV chef and WaterAid ambassador Nadiya Hussain MBE is supporting WaterAid's call to ensure families everywhere have clean water, improving children's health and education and helping them protect themselves from the impact of climate change.
Nadiya Hussain said:
"WaterAid's sand portrait is a poignant reminder that climate change is already affecting families around the world. It's a terrible injustice that millions of children's lives are threatened because of a lack of clean water, and that climate change is making the situation even harder for those in the world's poorest places who have done the least to cause it.
"Every child should be able to grow up free from the burden of collecting water so dirty it could make them sick. That's why I'm supporting WaterAid's work to help bring clean water to families across the world, enabling them to break the cycle of poverty and protect their children from disease, helping them reach their potential and fulfil their dreams, whatever the future holds."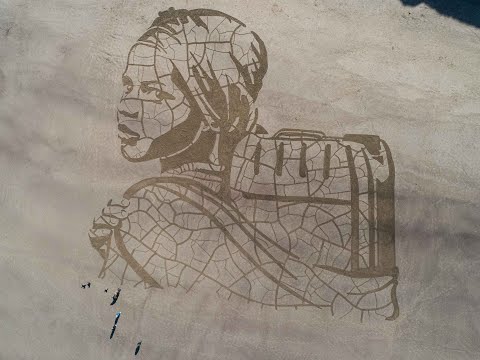 Tim Wainwright, Chief Executive for WaterAid, said:
"The thought-provoking portrait of Ansha will be swept away by the rising tide but we cannot allow the same to happen to the futures of the vulnerable communities impacted now by climate change.
"Unless you know that you will be able to get clean water each and every day, the rest of life is a struggle and a drudgery. For many people in the world getting clean water has been made more difficult by climate change, but if they had just a simple tap or pump that always worked then they would be protected by the impact of climate change.
"Time is running out to crack the climate crisis however and change needs to come from the top too. We want to see leadership from the British Government in making sure that sufficient resources are put into making sure that everyone everywhere has clean water now and forever."
Find out more about WaterAid's work:
www.wateraid.org