Phil Hopkins
Group Travel Editor & Theatre Correspondent
7:00 AM 5th July 2022
travel
New Ruff Guide For Dogs!
Award-winning home swapping site, Love Home Swap, has launched a travel guide showing which of their properties are happy to host a friendly mutt.
Current figures estimate that 33% of UK homes and 40% of Australian households now have a dog, while a staggering 69 million homes in the US have at least one pooch.
So, with a steady rise in the number of people wanting to take their dogs on holiday with them, the people at
www.lovehomeswap.com
has launched a 'brochure' in the form of a travelogue film with the express aim of targeting doggie lovers!
This first-ever dog travelogue has been produced to highlight pet-friendly swaps available on Love Home Swap, as more owners than ever seek to take holidays with their pets.
The guide, which is a five-minute-long travelogue film, has been developed with pet behaviourist Professor Peter Neville.
Taking into account the unique way dogs experience the world, including the colours they can and can't see, and the sounds which are most appealing to them, the video has been specially edited to heighten canine viewers' enjoyment!
With the overall aim of helping pet-owners understand whether their dog fancies a coastal, countryside or city break, the viewer is taken on a sweeping tour of potential activities and locations, with perfectly calibrated colours and sounds to enhance pooches' viewing pleasure!
The result is a film that might sound rather unorthodox,but offers the exciting prospect of getting the family pet involved in deciding what type of home swap holiday they go on.
The only big question is this: will coast, countryside or city prove to be most popular?!
The film can be viewed at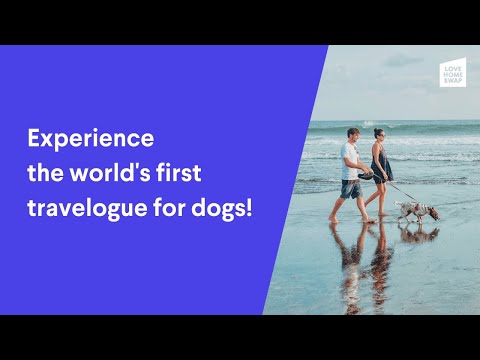 For more information on Love Home Swap's many pet-friendly homes, please visit:
https://www.lovehomeswap.com/blog/latest-news/love-home-swap-launches-the-first-ever-travel-guide-for-pets?utm_source=press&utm_medium=article&utm_campaign=travelogue_for_dogs&utm_content=blog_post