sports
Racehorses To Take Part In 60 Community Events During National Racehorse Week
From 9-17th September 2023, in an experience like no other, over 130 venues across the country, including training yards, studs and retraining centres, will open their doors to the public to show what life as a racehorse is really like.
As part of the initiative that invites 16,000 members of the public to meet a racehorse for free, 60 community events will take place. Great British Racing, organisers of the weeklong event that is in its third year, hope to engage with at least an additional 3,000 people through community events.
During the week, many former and current racehorses will visit schools, care homes, hospitals and mental health charities during the week giving those, particularly in city locations, the chance to get up close with a horse, sometimes for the very first time.
Research, being conducted by Claire Neveux, MSC BSC Phd Student at University of Bristol, has demonstrated that 85% of the respondents (who are connected to Equine Assisted Service programmes) think that thoroughbreds are suitable for Equine Assisted Service programmes. This was largely due to the characteristics of the thoroughbred. Respondents agreed that the thoroughbred is particularly suited to Equine Assisted Service due to its reactivity, experience, intelligence, sensibility and curiosity.
Research commissioned by Great British Racing has revealed that 71 % of people aged 12-40 said that they felt happy when they saw a horse up close. Equine therapy is growing in popularity and many former racehorses now have very special roles with organisations such as Greatwood, New Beginnings and HEROS to name a few. These organisations provide a range of Equine Assisted Services, rehabilitation and educational programmes using the thoroughbred.
The 60 community events taking place during the week sit alongside the additional 3,000 hours a year of community work thoroughbreds take part in. For example, charity HEROS based in Oxfordshire, provides alternative placement education for an average of 40 students per week.
Most students attend HEROS one day per week and for many this is their only engagement with any kind of education setting. The five-hour day is primarily focussed on immersing students with horses, learning about all aspects of horses, their care and their behaviour and characteristics as a species. In 2022 alone, 30 former racehorses assisted in education programmes at HEROS, supporting 40 students per week over 38 weeks – this amounts to a staggering 1,710 hours of former racehorse input.
Grace Muir, Chief Executive and founder of HEROS said:
"At HEROS we combine the retraining of former racehorses with the education of young people who, for many reasons, may not be thriving in their school setting as they should. Thoroughbreds are a phenomenal resource in this respect as they are both sensitive and great communicators.

"Many of our students mask their difficulties and the thoroughbred will soon give them away. Students learn to manage former racehorses, understanding the concept of body language and the effect their behaviour has on the world around them. These wonderful former racehorses take time to decompress after their racing careers are over, getting ready for a new life - much like the students who learn from them. It's a magical and inspirational combination that brings about personal, social and emotional growth for all involved."
The community visits will give those who may not have the chance to visit one of the 130 free events during National Racehorse Week the opportunity to experience the joy of getting close to a thoroughbred racehorse and to learn more about the lives they lead.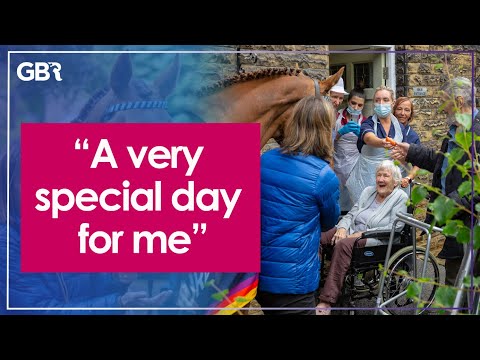 Great British Racing's research also revealed that 64 % of people aged 12-40 said they would like the opportunity to see horses in person and 78% of the people surveyed said they would like to learn more about how a racehorse is cared for from the people who look after them.
Great British Racing is working with organisations Racing To School and Racing Together to facilitate the community events. The 60 community events will include:
24 school visits
20 charity visits including Mind, tickets4troops, Autism in Racing, Riding for Disabled Association and other community groups
Eight care home visits
Four hospital visits
Four urban equestrian centres
Jo Foster who is based near Bradford will take active racehorse, Sigurd, to visit fours schools during the week. Sigurd regularly visits schools and care homes in between racing and in 2022 Foster and Sigurd won Good Morning Britian's One Million Minute Award for their service in the community.
Foster said:
"Sigurd is an incredible horse - he competes on the racecourse, but also regularly visits schools and residential homes, which has become second nature to him. I've never known a horse so able to relax and genuinely relate to people, from children with special needs, to older people in wheelchairs."

"For me, National Racehorse Week is about how we, as trainers, can help people and give back to the community. These wonderful horses offer us so much more than winning races: they put smiles on people's faces and can genuinely help people who are feeling sad, lonely, or isolated. It's also an opportunity for people to come and see how we, in turn, look after our racehorses."
National Racehorse Week will be bookended by open days taking place at Malton on 10th September and The Henry Cecil Open Weekend in Newmarket on 23rd and 24th September 2023, bringing the total number of locations on offer to the public during that period to more than 160. These events are not free to attend, with tickets funds donated to Racing Welfare, British Racing School, and Newmarket Open Door.
Run by Great British Racing, with principal funding from The Racing Foundation and The Horserace Betting Levy Board, National Racehorse Week is the sport's biggest campaign to bring people across Britain behind the scenes of racing to show the incredible work that goes into the care of thoroughbreds, and give real-life insights into the lives racehorses lead.
To find out more click
here