sports
Frank Worthington: Football Legend - 1948-2021
Big Frank remained a regular feature in the stand at Huddersfield even in relatively recent times. You'd see him on match day, in a long black overcoat, often sporting a fedora. That much never changed. He was always a sartorial extrovert; his sense of dress dovetailed almost symmetrically with the on-field flamboyance - the turn on a tanner, the nifty footwork, the impossibly-angled, and entirely unexpected, lob into the top corner.
Huddersfield Town was the first rung on the ladder of an illustrious career for this local lad – he was born in Shelf, midway between Halifax and Bradford – and it was a football club with which a powerful affiliation sustained. Town had endured, continue to endure, a chequered relationship with what is now the Premier League, and in 1970, a very long stint in the old First Division came to an end in no small measure owing to the maverick youngster who made up for a lack of pace with astonishing ball skill and a superb left foot. Playing every game of a long promotion season, Frank Worthington was the free-scoring
wunderkind
of a multi-talented team which ran away with the title. I will never forget the joy of the final day of the season - Watford, 3-1 - at the old Leeds Road; the cameras flashing against the evening sky, the lap of honour, Ian Greaves, the manager, and Big Frank holding the glinting trophy.
Frank was of the George Best school of epicurean over-indulgence, which would be neither tolerated nor encouraged in our time. His appetites were steroidal: he played hard, and he
played
hard. The tales of nights with Miss Sweden, the flash cars, the candle-burning at both ends, and the carousing, are neatly summed in the answer he allegedly gave when asked if he preferred astro-turf to grass – 'I don't know, I've never smoked astro-turf', he said, only half-joking. Apocryphal or no, the story is indicative of a star who never took himself entirely seriously: pundits and old pals have emerged in droves in recent days to pay homage to Frank's charisma, both on and off-pitch, not least among them, Sam Allardyce and Ally McCoist.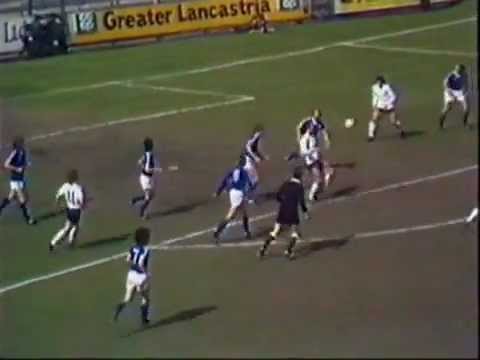 Frank's infamous non-move to Liverpool – the record-breaking deal, which had been agreed, was stymied by a medical failed on grounds of hypertension – precipitated, instead, an illustrious career with Leicester City, Bolton Wanderers, Birmingham and Leeds, though he is now generally held to have been the best striker that Bill Shankly never signed. Worthington himself said, not unreasonably, that he'd have played many more times for England than the meagre eight appearances he was given, had he been knocking goals in for fun every fortnight at Anfield.
And as the outrageous cowboy boots lope off the stage and into history, it is worth remembering that the young apprentice who was Frank's 'boot-boy' at Leicester, and who never forgot the kindness shown to him by his idol, was one Gary Lineker.
RIP Frank Worthington 1948-2021