arts
Blackpool Grand Theatre Launches Beard Shaving Charity Appeal
Roger McCann, who works for the Arts Council, has raised thousands for the causes after seeking sponsorship to shave off his impressive whiskers on stage.
Roger, who is the partner of Ruth Eastwood, CEO of the Blackpool Grand Theatre, explains the origins of the campaign, saying:
"When UK theatres closed on 16 March 2020 due to the Covid-19 pandemic I said I would not shave again until they re-opened, little knowing that it would be more than a year.
"In that year, despite emergency help from Arts Council England and the UK Government, theatres have come to the brink of collapse and thousands of individual theatre workers have been left with no work and no income.
"As it stands, the Blackpool Grand Theatre fund has now reached £1370 and Acting For Others is £1432, plus Gift Aid where possible and I am truly grateful to everyone who has donated as these vital funds will be welcome relief to both charities. We're hopeful of reaching the new targets we've set and thanks to the amazing assistance of UK Productions Ltdas well as some of the cast of Snow White and The Seven Dwarfs, we've put together a fun video of the infamous beard shaving with our pantomime stars, Vicky Entwistle, Steve Royle and Trevor Jones -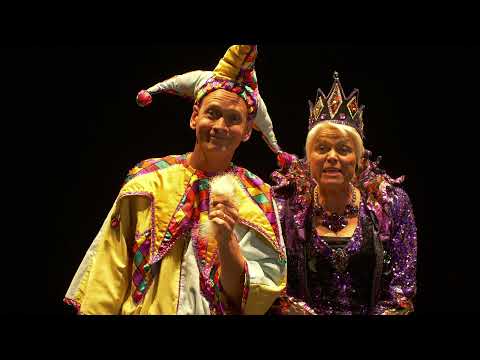 "We hope it will encourage people to dig into their pockets in support of Blackpool Grand Theatre."
The idea all started as a nod to a theatre superstition held by the director at the Nuffield Theatre in Southampton, when Roger worked there over 35 years ago; he didn't shave between the last day in the church hall rehearsal room and the opening night - usually six days later.
Roger added:
"It seemed to work because among the shows we premiered were Daisy Pulls it Off by Denise Deegan, which went on to a five year run in the West End and won the Olivier for Best Comedy, and The Hired Man by Melvyn Bragg and Howard Goodall, which won the Ivor NovelloAward for Best Musical. I decided to resurrect David's superstition and help theatre workers in the process.
"In a quirky twist, the beard, which was cut on stage at Blackpool Grand Theatre on 21st June, will also live on. The Georgian puppeteer I was visiting in Tbilisi when theatres closed down has laid claim to the beard, so it has been carefully put away after cutting to be sent to her. She says it's the perfect colour and quality for the hand-crafted puppets she is making!
"It's great to know that my beard is still pulling strings when it comes to supporting live performance!"
To support the fundraising campaign, visit:
https://uk.gofundme.com/f/beard-shaving-for-theatre-return?qid=6e873177d58199c7d775ff5fdf855831