arts
Interview
A Special Announcement: In Conversation With Shed Seven's Rick Witter
Since 1990, Rick Witter has fronted Shed Seven. Having grown from a band in York working the local circuit to international icons, they have a back catalogue of epic proportions. With a list of accolades that is truly enviable, the band is back on the road and building towards a new studio album,
A Matter of Time.
Alongside the new album, Shed Seven has also announced epic 30th anniversary celebrations for July 19 and 20, 2024, at York Museum Gardens.
Vocalist Rick Witter says:
"We've been longing to perform special shows in York for many years, and, finally, the stars have aligned perfectly for this to happen in our 30th anniversary year. We are already planning something extraordinary for these shows, so you can expect special guests and grand ideas galore. It's going to be a jubilant celebration of the last 30 years of Shed Seven and a performance like nothing we've done before in beautiful surroundings."

Shed Seven has personally chosen an exceptional line-up of special guests throughout the weekend. Peter Doherty will perform on both nights, and the Libertines legend also features on the upcoming Shed Seven track 'Throwaways'. Friday night also presents Lottery Winners, who scored their first No. 1 album earlier this year, as well as York's rising indie-rock stars Serotones, who are fronted by Rick's son Duke. Saturday's event is completed by the intoxicating, soul-infused alt-pop of Brooke Combe as well as Apollo Junction, who blend modernist touches into their Britpop roots.
We were overjoyed to catch up with Rick to learn a little more.
Hi Rick, First of all, how are you?
I'm well, thank you. We have had a busy couple of years doing various gigs and festivals, etc., but added to that, we've been writing a new album, which has been a great experience.
It has been 30 years since your debut album, Change Giver. How do you feel about approaching that milestone?
Yes, 30 years seem to have literally flown by. It's not really computing as yet because we've been busy trying to ignore it, but we have a lot of plans underway throughout next year to celebrate the milestone, which we will start announcing the nearer it gets. I still feel about 24 inside, so it's confusing me, although I find the hips feel more like 50 these days.
Looking back, did you ever anticipate the impact your music has had?
In the '90s, it was full-on. As much as it's the best job in the world, it's still a job, so we found ourselves never really coming up for air as there was always something on the to-do list. So I guess it was only really in the late '00s when we were out performing the old songs and seeing the reaction of the crowds that it struck us that the songs we wrote moons ago still had an effect on people. It's great to know that our back catalogue still resonates, and long may that continue.
You've achieved so much over the years; what ambitions are left unfulfilled?
There is always something new to achieve. Life is never boring. With age, I guess we feel we have less to prove, but there is no bigger thrill than creating new music. When it's working, the buzz we get overrides anything. So I guess ambitions aren't something we seek. They are things that happen, and we realise the fact after.
You are back with Shed Seven's first album in seven years. Tell us about the writing and recording of A Matter of Time...
Yes, we are back with new music, which we are excited for people to hear. This album came relatively quickly for us, which is kind of unusual. We started writing it in March '22 and had completed the majority of it by December '22. I think me and Paul had a bit of a purple patch throughout the year, as pretty much everything we were attempting seemed to fall into place quite quickly. We recorded the album in Spain over a three-week period in February and March earlier this year, which was an intense but really rewarding period of time. Then we brought it back over to London for the 'bells and whistles'. We release it on January 5, 2024, and, in my opinion, if you are a fan of the Shed, I think you are going to love it, and if not, then I think it's undeniably got a great sound and great tunes, so it's time you did.
What lessons did you learn from previous releases that you applied to this one?

We don't really approach it like that. We have a blank canvas, and we watch it evolve. We are the first to know if something isn't working or isn't sitting well, and we react to that. So each new release is like a fresh start.
The industry has changed so much since you started; how do you find the current industry?
Yes, the industry has changed massively since we came along. We are learning something new about it every day and are just hanging in there. Some things are a positive sign, and others are perhaps not great, but all artists should fight for their rights. It will be different again by this time next year, so I guess you just cling on and hopefully enjoy the ride.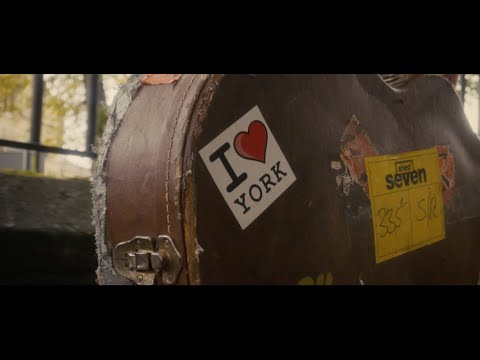 You have, of course, had side projects and solo projects over the years. How do you balance all the projects?
I suppose it's the need to keep creating. It's the only good thing I know what to do, really. I'm really into snooker, but I'm rubbish at playing it. I love playing badminton, but I'm out of breath after 5 minutes! So, the side projects are a basic need to keep creative when the day job has those moments of relaxing a little.
What are your hopes for A Matter of Time?
I hope that people take it to heart. I hope that it impresses people and keeps Shed Seven relevant, and, like our back catalogue, I hope it's still being played and enjoyed in 30+ years' time (and indeed, when I'm long gone).
You are taking the album on the road; what can we expect from the shows?
Shed Seven shows always seem to have a great atmosphere. The fans know what to expect, and hopefully we usually have the best time. We like to put on a show because it's important. If people are spending their hard-earned money on a ticket to come see us, then they deserve to be entertained. On these next few shows, we will be playing a few new album tracks alongside some old hits. The best thing about our new songs is that they don't stick out like sore thumbs. They fit really well with the older songs. It's all very Shed Seven, but fresh, relevant, and exciting.
Just lastly, if you could have a cover collection of your debut released for its anniversary, which artists would you want covering which songs?

I'd be happy with anyone having a go at covering our songs. The compliment would be right there. It's always nice to see artists online in pubs and clubs doing covers of our songs, as that means they have taken to the song. However, if you could have a word with Elvis to come back for a few hours and do a version of one of our songs, I wouldn't complain, although if he could come back for a few hours, I'm sure he'd have better things to do. So let's say we bring him back for a week so he can fit us in.
Pre-order your copy of
A Matter of Time
here